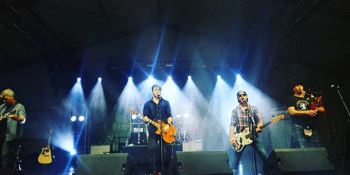 THE LOFT LIVE MUSIC
The Go Set
The Loft, Warrnambool (Warrnambool, VIC)
Friday, 25 January 2019 7:00 pm

Since the bands formation in 2003, The Go Set has been a unique musical experience. Four studio albums, relentless tours, raw & chaotic live shows united with powerful songs and a strong social conscience...

The Go Set have created a sound of its own by combining traditional folk instruments with distorted punk guitars & timeless rock n roll energy. The band has performed at Australia's best venues & festivals such as the Forum Theatre, Falls Festival, Pyramid Rock, Queenscliff Music Festival, Port Fairy Folk Festival, Apollo Bay & St. Kilda Festival. Aside from extensive touring schedules, stages have been shared with The Living End, The White Stripes, The Bouncing Souls, Flogging Molly, Wolfmother & Weddings Parties Anything.

2012 has seen the release of album number six, a self titled career defining rock n roll oeuvre, produced by renowned Australian producer Paul McKercher (You Am I, The Living End, Midnight Oil, Something for Kate). Tracked live through the old Neve desk at St Kilda's rocking Hothouse Studios, the album features eleven songs refined by months on the road & represents a band at the top of its game.