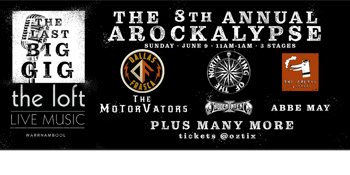 The Loft Live Music
8th Annual Arockalypse and the Last Big Gig In Liebig St
Dallas Frasca, King of the North, the Pretty Littles, Hidden Intent, Abbe May and The Motorvators to name a few.
The Loft, Warrnambool (Warrnambool, VIC)
Sunday, 9 June 2019 11:00 am
This year we have consolidated Arockalypse into one day with over 30 acts ON the day starts at 11am and goes until 1am with three stages running all day!!
ITS ALSO OUR LAST BIG GIG IN THE LOFT LIVE MUSIC LIEBIG ST WARRNAMBOOL as we are closing the venue for good!!